Dasung E Ink 13.3 Inch Papaerlike Pro Monitor for PC Computer Programming Display HDMI Power
| | |
| --- | --- |
| Quantity | Price |
| 1+ | $1099.00 |
| 3+ | $1044.05 |
| 10+ | $1011.08 |
| 20+ | $989.10 |
| 50+ | $934.15 |
buyer protection

30 Day Returns Guarantee
Full or partial refund if the item is not as described
Full refund for damaged items
Highlight:
1. PROTECT YOUR EYES - The Dasung Paperlike Pro helps protect your eyes from Computer Vision Syndrome (CVS). The world's first e ink monitor measures 13.3" with a resolution of 800 x 600 to 1600 x 1200, the highest e-ink resolution yet. The monitor doesn't emit a harsh backlight that can lead to eye issues, headaches, and insomnia. With Dasung's e-ink monitor, your eyes will be protected while writing code or browsing the internet. It can be a replacement for computer glasses that ease eye strain.
2. EASY SETUP - The Paperlike Pro is easy to set up. When you purchase the e-paper display, it includes a HDMI and USB cable that plugs directly in to your computer or laptop. The HDMI connection transmits the display, while the USB connection powers the monitor. Also, the Paperlike Pro works with Windows, Mac (OS X 10.11 or higher), Linux and Ubuntu.
3. NO GLARE - The Paperlike Pro is perfect for outdoor environments or high glare situations. With Dasung's Carta e-ink monitor, gone are the days of tilting or shading your monitor at the perfect angle to view the screen. This creates better sunlight readability and more productivity with your e-ink monitor while outdoors. The Paperlike Pro also works great in the dark, or low light situations. There are 4 different display modes that you can toggle between to meet your specific preference.
4. PORTABLE - The Paperlike Pro was built with portability and convenience in mind. It's only 1/4 in thick and can fit easily in a briefcase or backpack. No power cord or battery is needed because it draws power directly from the USB cord plugged into your computer or laptop. It also includes a simple, collapsible stand.
Specification:
Brand: Dasung
Monitor: 13.3 Inch Eink Computer Monitor
Size: 15 x 12 x 3.5 inches
Screen Ratio: 4:3
Color: Black/white 16 gray scale
Display Light: Surrounding Reflective Light
Backlight: No
Screen Switch: Yes
Horizontal Resolution: 800*600 to 1600*1200
Vertical Resolution: 600*800 to 1200*1600
Color Mode: A5/FLOYD/A2/16 Mode
Afterimage: Auto clear; Dasung Smart Brush
Working Temperature: 15-35 degree
Storage temperature: -10 to 45 degree
VESA Hole:75mmx75mm
Power Supply: HDMI
Data Transmission: HDMI
VGA: No
LAMP Power: USB
OS Supported: Windows XP, Windows 7, Windows 8, Windows 10, Mac OS X 10.11-10.12, Linux Ubuntu
Accessories: Plastic Shell+ Portable Support+ Y Mode HDMI Cable
Weight: 4 Pound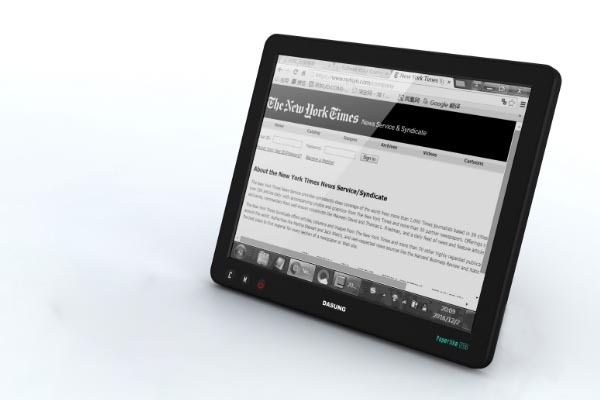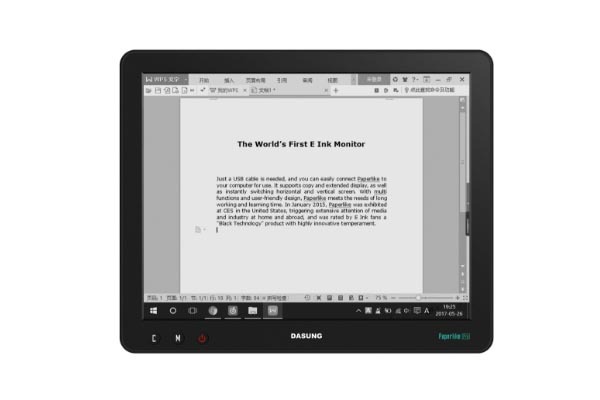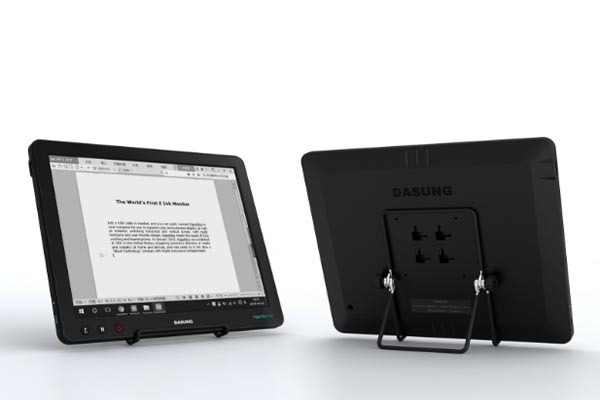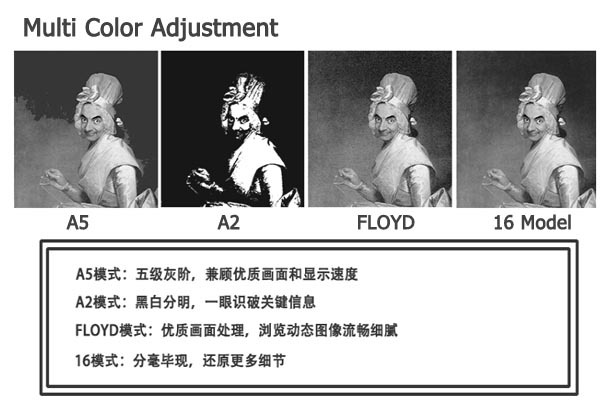 USD

Your cart is currently empty.